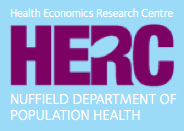 Autumn/Winter online short course from the Health Economics Research Centre at the Nuffield Department of Population Health (University of Oxford)
Integrating Economic Evaluation into Clinical Trials, 19-20 October 2021

This newly developed course is designed for clinical investigators, managers, researchers and others working in clinical trials. It will give participants an understanding of what is required to enable an economic evaluation to be integrated into a clinical trial at the design stage. No previous knowledge or background in economics is required.

Additionally it will provide practical advice on how to find and collaborate with a health economist on the analysis of a clinical trial.

Each session will comprise of a mix of pre-recorded lectures (40-75 minutes per session), practical exercises to reinforce the presentations, and live sessions with tutors to go over exercises and to provide an opportunity for questions.

Access to course material will be provided two weeks in advance of the course. The lectures and practical exercises can be viewed and worked through at a time convenient to participants, although to get the most out of the live sessions, we recommend viewing the lectures and working through the exercises ahead of the session.


The language of the course is English
A certificate of completion will be provided (electronically) post course
Early bird rate ends on 19 September 2021.

For more information please visit: https://www.herc.ox.ac.uk/herc-short-courses/integrating-economic-evaluation-into-clinical-trials